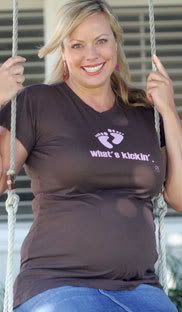 2 Chix, presents a fresh and fun selection of maternity clothing that is hip, trendy, and funny. Expectant moms finally have a stylish option in maternity wear that's sexy, funky, and comfortable. 2 Chix maternity clothes have a great option for moms-to-be as well as post pregnant mothers. Some of the Hollywood pregnant "elite" who have enjoyed 2 Chix include Brooke Shields, Jennifer Garner, Melissa Joan Hart, Julia Roberts, Jaime Presley and Angelina Jolie.
Shop Now, and get a 15% Discount! The Discount Code is: GROOVYBABY15
Good through December 31,2008.
Visit the Site Here
http://www.2chix.com/