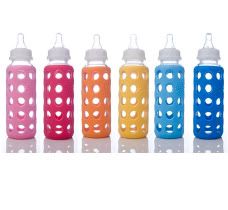 This silicone sleeve is free of plastics and is 100% non-toxic. The bottle and the sleeve can be boiled or put in the dishwasher together. The silicone nipple is latex-free and non-toxic. The plastic ring, plug and cap contain no polycarbonates and are food grade, FDA approved and recyclable. The sleeve provides a good gripping surface during feeding and also a great tactile experience for your baby.
Click Here to Learn More
http://shop.allgreenthings.com/Store/pc/viewPrd.asp?idproduct=837&idaffiliate=23

Wow! These Bottles are Cool Looking huh?