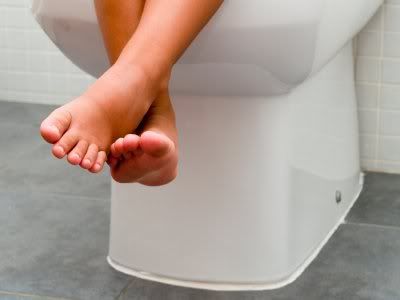 Got
kids
? Grandkids? Nieces, nephews, or friendly neighbourhood kids? Then potties may be familiar items. It is a very Western concept - because our porcelain toilet thrones are created for adults, certain accommodations must be made for
children
. Compare this to the developing world, where most people have no access to toilets or sewage systems.
There are various ways to help small children use Western-style toileting methods. The most common starting point is a specialized potty - a receptacle that is meant to help
toddlers
transition from diapers. While potties are typically portable and designed for small bottoms, there is the inevitable clean-up problem. Any "deposits" in the potty must be transferred to a toilet before the potty is thoroughly cleaned. This task must be repeated a number of times a day for weeks and months on end. It takes a lot of soap, water, and patience.
Why not use the toilet straight away? Well, toilet seats are made for adults, and the large opening is not child-friendly. Some kids are terrified of falling in, and the concept is not so far-fetched. To alleviate this problem, there are special potty seats that can be set on the toilet. Some clip on, while others just rest in place.Here's the catch, literally. Most child toilet seats are not securely attached, leading them to
slip
and sometimes even pinch. Even those that stay relatively secure can scratch and damage the underlying adult seat.
Truly, the whole
toilet-training
phase comes with a strange variety of challenges.So what's a
parent
- or grandparent or daycare - to do? Luckily, some innovative thinkers have put their minds to the problem and come up with different options. The
Early Choices toilet seat
was thought up by a father of six and now grandfather - it offers an integrated design for both adults and small children. The idea is that toddlers go directly from diapers to using the toilet, with no messy potty stage in the middle.How is this possible? The toilet seat is permanent, with two different seats for smaller and larger sizes. It can be installed within minutes and is easy to clean. Once the child seat is no longer needed, it can be removed. The current design
fits
all standard toilets, and a long version is in development.Why is a modified toilet seat a good alternative to traditional potties? For a start, it allows children to become more capable and independent.
Parents will appreciate being freed from potty-cleaning. Solidly integrated seats mean that kids have a safe and secure place to sit - and the child portion clips up for easy storage. The clips are child-friendly, so kids can fasten and unfasten their own seat. Early Choices seats should be available at Canadian Tire and other hardware stores - or can be ordered online. This Canadian company offers a lifetime guarantee. Other companies sell similar
products
- although consumers should check the sturdiness and durability to ensure comparable value. Don't settle for a flimsy option, as it won't provide the same peace of mind and cost effectiveness.
Dual toilet seats are simple, straightforward, and meet everyone's needs. The question is: why aren't such seats everywhere? They should be in public washrooms, institutional bathrooms, community centres, hotels, and many more facilities. Parents and caregivers would no longer need to dangle small children precariously over large toilet openings.
Few things are less conducive to a child who is newly out of
diapers
and still learning how to use toilets comfortably. On that note, the next innovation needs to address automatically flushing toilets that cannot detect adult caregivers helping small children - sudden loud flushing is not relaxing for kids!